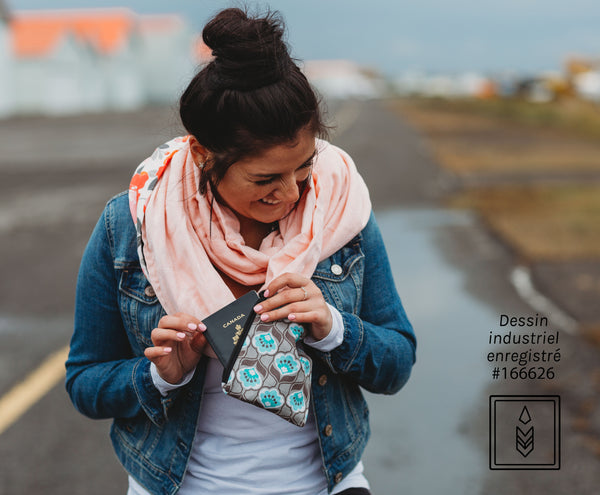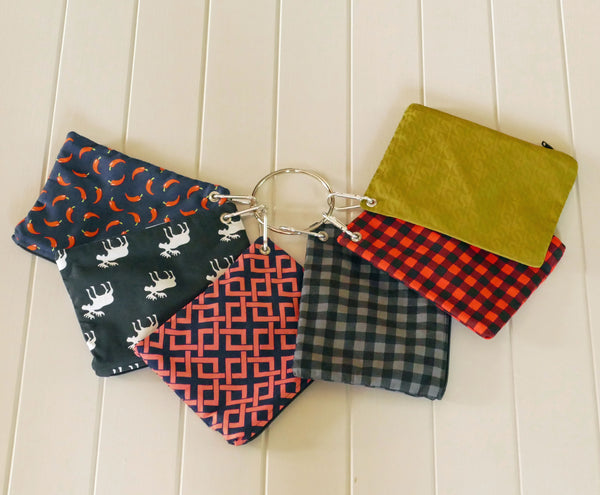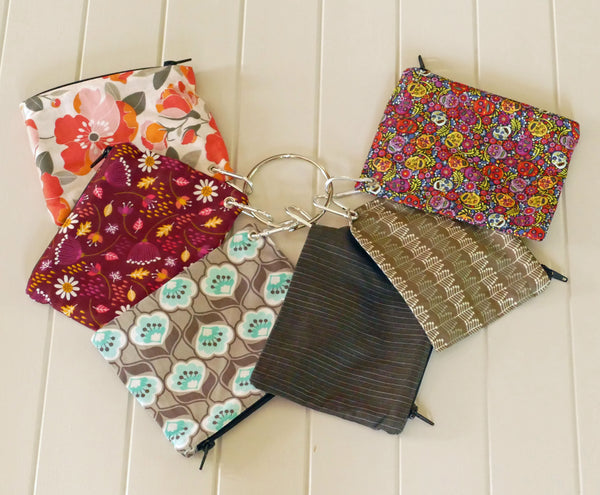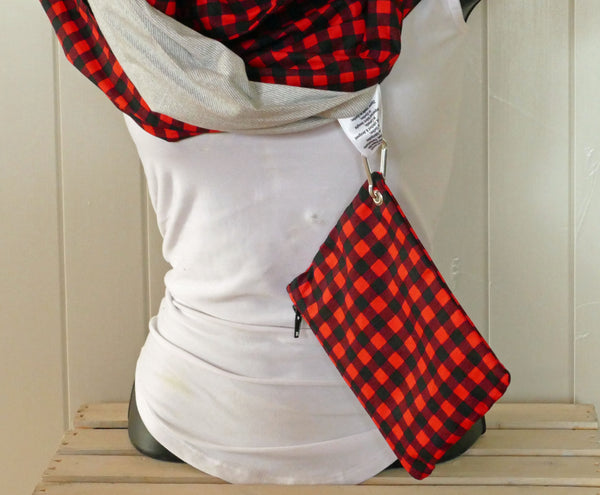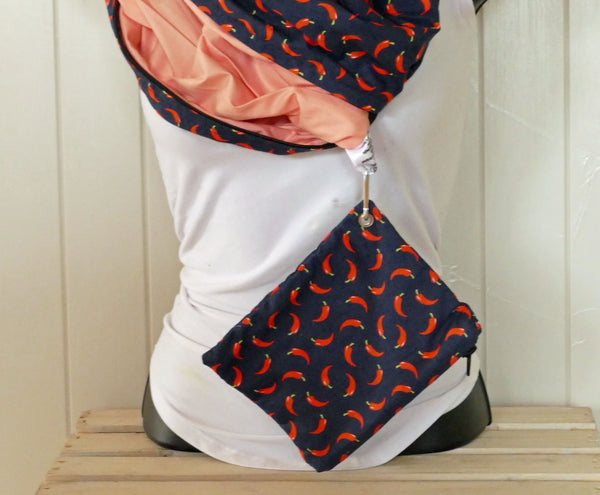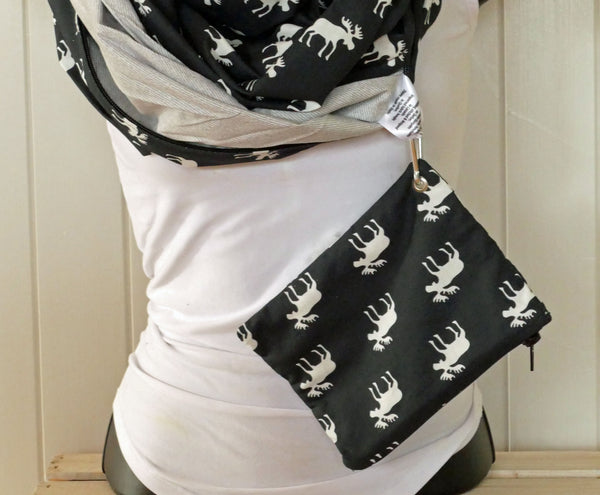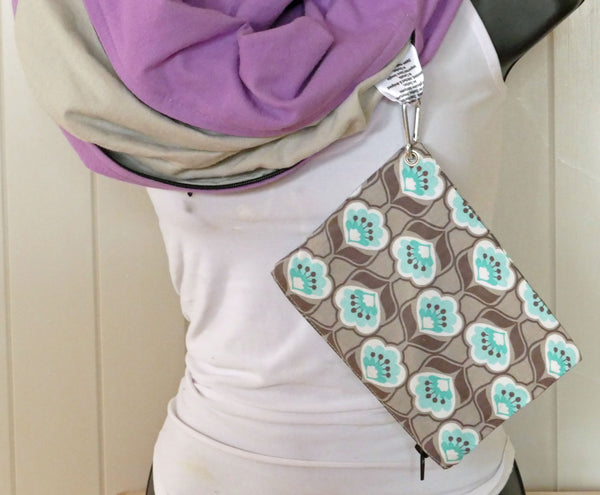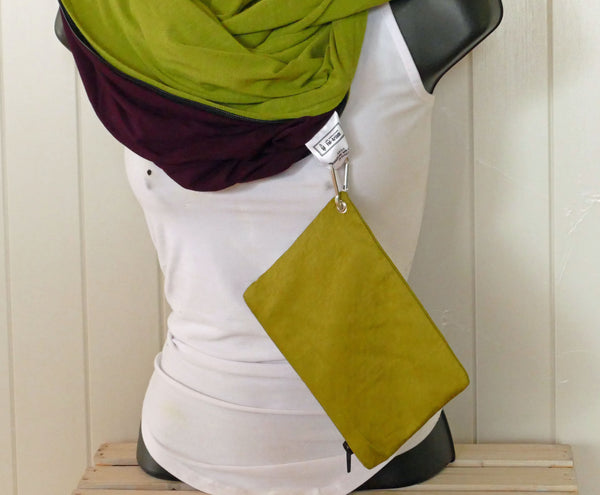 The colorful savings quilt
Always the same false note when it comes to ecology. The all-out and shameless waste of a run that goes too fast to pick up what it loses along the way. If our scarves are endless, they can well generate an anti-waste gesture, an accessory without consequence and without imprint, but as stylish as it's simple.
We can simply say that at random from the tissues, encounters may or may not happen.
And if you opt for a pattern that contrasts with your scarf, you will signify a different kind of intention. Between the camouflage and the radical difference, treat yourself to the degree of layout that suits you, as in all things.





__________

Each pouch comes with a small carabiner that hooks onto the label located in the large pocket of the scarf. This way we can hide our things and secure them from thieves (especially when traveling) and we are sure not to lose them even if the scarf pocket opens.
The pouches are 6.5 inches by 5 inches and have a 6 inch long zip. The pouches are made of 100% cotton.
Several colour choices are available to you;
Taupe with cream and turquoise leaves
Colorful retro (gray, pink, orange, fuchsia, brown)
Green
Gray with white flower patterns
Camouflage
Charcoal gray floral turquoise
Striped charcoal brown.
__________


* The tints on the photo may differ from the actual ones due to your screen adjustments.
Shipping cost
Across Canada, delivery charges are fixed at $ 12.

For any purchase of $ 150 or more before taxes, we offer free delivery!

Orders are processed and sent within 24 to 48 business hours. Allow 2 to 5 additional business days for shipping by Canada Post (Monday to Friday).

Want to receive your order faster? It's possible! When placing your order, you can select express delivery by accepting additional charges.
For international deliveries, the delivery costs are extra.
Terms & Conditions
Unless you specified during the purchase that you want express shipment, the order leaves our workshop within 1 to 5 working days (except for the made-to-measure scarf, the tailoring time is 5 to 15 working days). Note that PO boxes are not accepted for delivery by Purolator (but they are accepted for Canada Post). The time to receive thereafter depends on the processing time of Canada Post. You will always have a tracking number linked to your package.


Customers who want a refund should contact us by phone to get approval. The goods must be returned and accompanied by a copy of the invoice and the authorization number. A product returned without an authorization number will result in its rejection and will be returned to you at your expense.


Exchanges are permitted, except for special orders and custom items.


The customer must bear the delivery costs in the event of a return.


All merchandise must be in its original packaging and be resalable for exchange and refund.


You have a period of 14 days following receipt of the goods to request an exchange or a refund.


Exchanges will be processed according to their availability in inventory. In the event of an inventory shortage, you will be notified by email or phone.


All photos on the site are protected by copyright. Any use made without the agreement of Les creations Fol-Artists senc and / or Renée Ledoux and / or Nikola Bolduc and / or Clouzote is a violation of copyright which may lead to legal action. Several photos were taken by

Renée Ledoux photography

and she alone owns the copyright. Several photos were also taken by

Nikola Bolduc

and

Clouzote

.


Would you like to come see our models in store? No problem, you just need to make an appointment at 450-834-4154 or by email at info@folartists.com.
Reviews